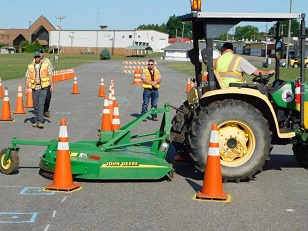 Six N.C. Department of Transportation Division 12 employees will soon compete against North Carolina's best heavy equipment operators at the 2022 State Equipment Operator's Safety Conference.
These events are held every year by NCDOT, testing competitors' skills and dexterity in maneuvering different heavy equipment through various obstacle courses. The purpose of the events is to foster team spirit, recognize exceptional employees, help workers improve their skills and highlight the importance of safe heavy equipment operations.
The Division 12 event held last month, hosted NCDOT staff members from Alexander, Catawba, Cleveland, Gaston, Iredell and Lincoln counties.
The event winners advancing to Raleigh for the state competition on June 21 include the following:
Howie Kerley of Alexander County Maintenance, Single Axle Dump Truck competition winner
Michael Long of Lincoln County Maintenance, Tandem Axle Dump Truck competition winner    
Rocky Millsaps of Alexander County Maintenance, Tractor Mower competition winner
Noble Putnam of Lincoln CountyMaintenance, Backhoe competition winner
Chris Mecimore of Alexander County Maintenance, Motorgrader competition winner
Kevin Deal of Iredell County Maintenance, Lowboy Truck competition winner 
The division champions stated they were very honored and humbled to compete against the best operators across the state and to represent the division. 
The winners from the state competition will be invited to Baton Rouge, La. from Sept. 27-29 for the Southeast Regional Roadeo.