The L Show
Hosted by Dr. Nicole Eastman | Owner of Rose Pharmacy & Boutique Apothecary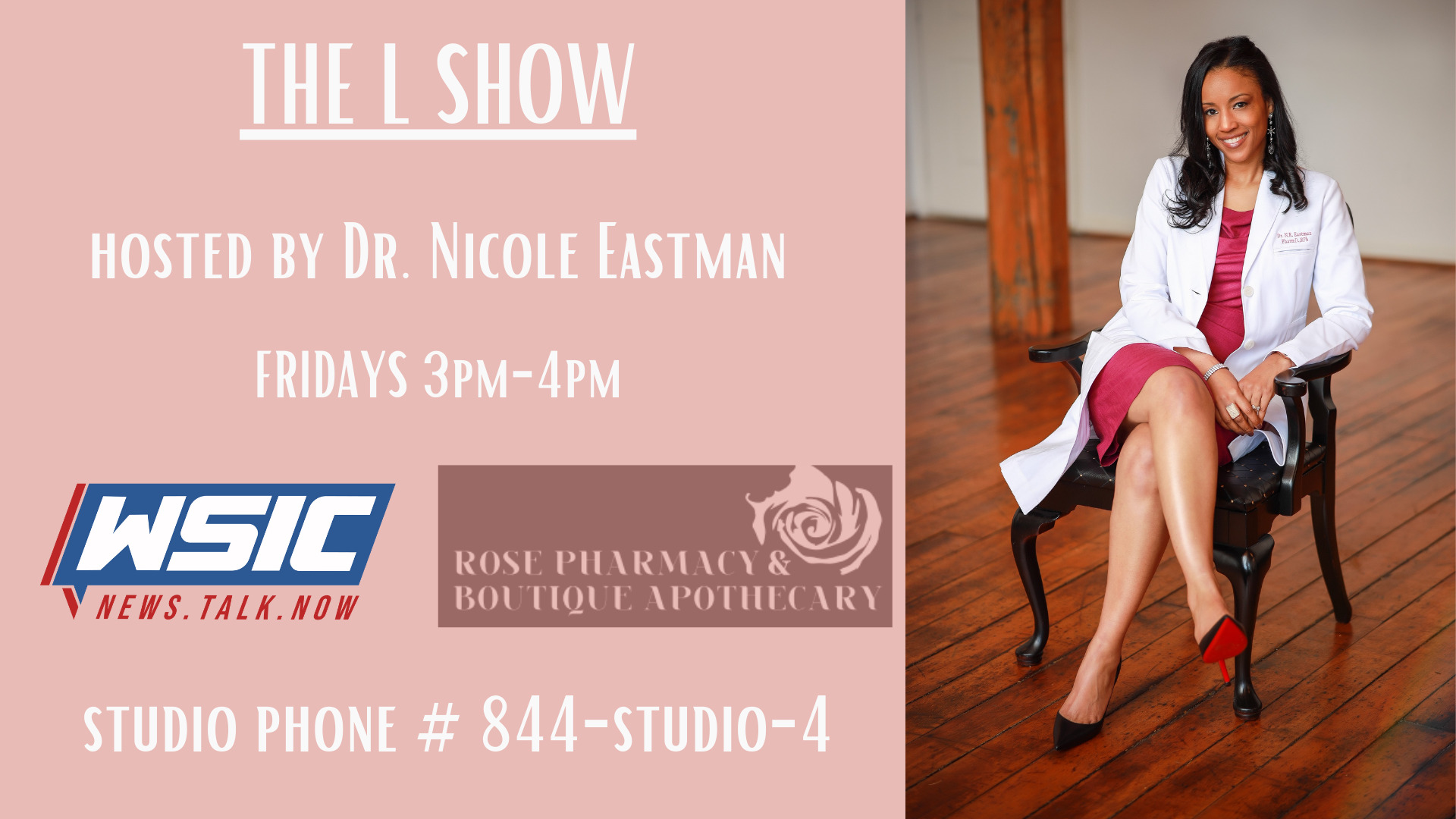 Welcome to "The L Show" with Dr. Nicole Eastman, broadcasting live on WSIC radio!
About the Show:
"The L Show" is a groundbreaking radio program hosted by the inspiring Dr. Nicole Eastman, renowned owner of Rose Pharmacy and Boutique Pharmacy in the serene Lake Norman, NC area. This unique show aims to break the silence and shatter stereotypes surrounding women aging. Dr. Eastman recognizes the need for a platform that embraces the physical and emotional changes that women experience as they gracefully age, providing a safe space for an often overlooked and marginalized demographic to be heard.
Showcasing her wealth of knowledge and deep understanding of women's health and wellness, Dr. Nicole Eastman delves into a wide range of topics that impact women throughout the aging process. From hormonal changes to the societal pressures women encounter, "The L Show" seeks to normalize these conversations and create a sense of camaraderie among its listeners.
About Dr. Nicole Eastman:
A trailblazer in the field of pharmacy, Dr. Nicole Eastman has carved a path of empowerment and support for women, especially those navigating the complexities of aging. As the proud owner of Rose Pharmacy and Boutique Pharmacy, her expertise extends far beyond the dispensing of medications, as she strives to create a nurturing environment where women's needs are truly understood and addressed.
Show Format:
Through thought-provoking interviews, expert guest speakers, and open dialogues with real women sharing their experiences, "The L Show" provides insightful guidance and practical advice. Dr. Eastman's warm and compassionate demeanor sets the stage for candid discussions that tackle topics often considered too uncomfortable or taboo. With a touch of humor and a wealth of wisdom, she encourages listeners to embrace the journey of aging with grace and confidence.
Topics Covered:
"The L Show" is dedicated to addressing an array of subjects relevant to women as they age, including menopause, sexual health, mental well-being, body image, self-care practices, and so much more. By offering evidence-based insights, debunking myths, and dispelling societal misconceptions, the show empowers women to make informed decisions about their health and life choices.
Audience Impact:
For women who have felt ignored or sidelined in mainstream media, "The L Show" is a breath of fresh air. The program instills a sense of belonging, fostering a community of support and understanding among listeners. Dr. Eastman's empathetic approach creates a safe haven where women can share their concerns and triumphs without judgment.
Tune in to "The L Show" every week on WSIC radio, and join Dr. Nicole Eastman as she champions the vitality and resilience of women in their golden years. Together, let's embrace the beauty of aging and celebrate the wisdom that comes with it. Because on "The L Show," every woman's voice deserves to be heard, loud and clear. 
In addition to our engaging radio broadcasts, The L Show provides multiple avenues for viewers and listeners to actively participate and stay connected. Here's how you can engage with us:
Live Call-ins: We believe in the power of community engagement, which is why we encourage our audience to call in and join the conversation during the live broadcasts. Dial 844-STUDIO-4 to share your thoughts, ask questions, and contribute to the lively discussions on air. Your voice matters, and we're excited to hear from you!
Live Stream on Social Media: Can't tune in to the radio? No problem! The L Show offers live streaming of each episode on WSICnews.com and various social media platforms. Follow us on Facebook, YouTube, or Twitter to watch the show in real time, interact with other viewers, and leave comments for the host and guests. This ensures that you can stay connected and engaged no matter where you are.
Archived Episodes: Missed an episode or want to revisit a favorite discussion? Our website provides a comprehensive archive of past The L Show episodes. Simply visit our website, browse the episode library, and catch up on any shows you may have missed. This allows you to stay informed about the latest happenings and explore a wide range of topics at your convenience.
The L Show is dedicated to fostering a sense of community and providing an inclusive platform for dialogue. We strive to ensure that your thoughts and opinions are heard, whether you choose to call in, join the live stream, or catch up on past episodes. 
So mark your calendars and set your alarms for Fridays at 3pm as we bring you The L Show on WSIC. Together, let's celebrate the unique character and community spirit of the greater Lake Norman area. We look forward to having you join us on this captivating radio journey!