Purple Heart Homes Presents
Putting the Pieces Back Together
Join Purple Heart Homes each Thursday at 3 pm on News/Talk WSIC. John Gallina and Brad Borders help veterans with the changes and challenges of life. Call in to the show at 704-873-1400.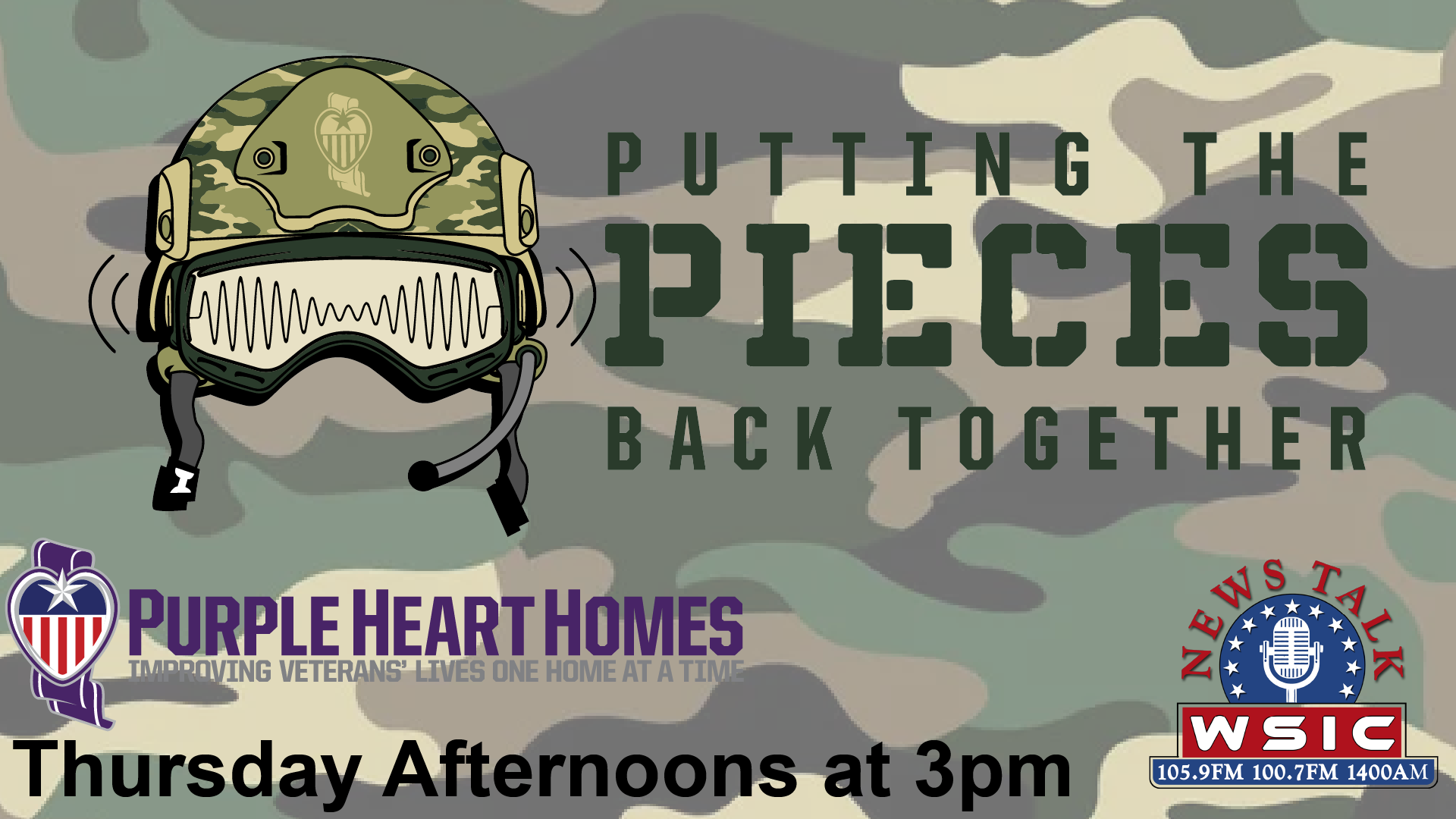 Welcome to "Putting the Pieces Back Together," the radio show that explores the inspiring journey of Purple Heart Homes and its mission to transform the lives of veterans. Join Purple Heart Homes CEO John Gallina and Brad Borders, EVP of Donor Relations, every Thursday from 3 pm to 4 pm as they share heartwarming stories of service, sacrifice, and the power of community support.
Episode Format:
In each episode, John and Brad will engage in candid conversations with veterans, their families, volunteers, and partners who have been touched by Purple Heart Homes' mission. Listeners will get an inside look into the challenges faced by veterans and how the organization is dedicated to providing them with housing solutions, healing environments, and a sense of belonging.
About John Gallina and Brad Borders:
John Gallina is the co-founder and CEO of Purple Heart Homes, a veteran himself, and a dedicated advocate for those who have served our country. Brad Borders, as the EVP of Donor Relations, brings his passion for community engagement and fundraising to ensure Purple Heart Homes can continue making a difference. Together, they embody the organization's commitment to veterans' welfare and the transformative power of rebuilding lives.
Why "Putting the Pieces Back Together"?
The show's title, "Putting the Pieces Back Together," reflects the mission of Purple Heart Homes: to help veterans put their lives back together after experiencing the physical and emotional challenges of military service. Each episode will highlight how the organization, with the support of the community, is helping to rebuild the lives of these American heroes.
What to Expect:
Tune in to experience heartwarming and impactful stories, including:
Veteran Spotlights: Discover the inspiring stories of veterans who have overcome adversity and found hope and support through Purple Heart Homes.
Homebuilding Projects: Get a behind-the-scenes look at the process of creating adapted and accessible homes for disabled veterans and their families.
Community Partnerships: Learn about the meaningful collaborations with businesses, volunteers, and other organizations that make these projects possible.
Fundraising Initiatives: Explore the various fundraising efforts and events aimed at generating support and resources for the organization's projects.
Veteran Services: Discussing the different programs and services offered by Purple Heart Homes to improve the quality of life for veterans.
How to Tune In:
"Putting the Pieces Back Together" airs every Thursday from 3 pm to 4 pm on WSIC. For those unable to catch the live broadcast, the podcast version of the show will be available on Apple Podcast and other podcast platforms, allowing you to listen at your convenience and stay connected to the incredible stories shared by John, Brad, and their guests.
Stay Connected:
Stay connected with Purple Heart Homes and receive updates on upcoming guests, episode topics, and additional content by visiting the organization's website https://purplehearthomesusa.org/. Connect with John Gallina, Brad Borders, and Purple Heart Homes on social media @PHHTweet or Purple Heart Homes on Facebook to participate in the conversation and show your support for our nation's veterans.
Conclusion:
Join Purple Heart Homes CEO John Gallina and Brad Borders on "Putting the Pieces Back Together" as they shine a spotlight on the resilient veterans and the organization's unwavering commitment to helping them rebuild their lives. Through heartwarming stories, interviews, and insights, this show celebrates the power of community, compassion, and collaboration in creating lasting change for our American heroes. Tune in and be inspired by the transformative journey of "Putting the Pieces Back Together" for veterans in need.
Thank you to our show sponsors:
Dr. Grant Campbell
Linn-Honeycutt Funeral Home in China Grove
Bunch Johnson Funeral Home in Statesville
We provide housing solutions for service connected disabled and aging Veterans
We are Veterans… We are also the sons, daughters, brothers, sisters, spouses, and those who are proud to have a connection to our nation's military. Join the family, and help us provide much needed assistance to Veterans of all eras.
Purple Heart Homes is a 501(c)3 public charity that was founded in 2008 by John Gallina and the late Dale Beatty, two combat wounded Veterans. After being injured in Iraq in 2004, they returned to their community and received a warm welcome and grateful appreciation for their service. They began to question why all Veterans didn't get the same levels of support and assistance from society.
The answer isn't easy, but Purple Heart Homes fills the gaps in housing through the Veterans' Aging In Place and Veterans Home Ownership Programs. From building a ramp for a Veteran of World War II, to providing home ownership opportunities to younger Veterans, our programs are designed out of necessity and fit the specific needs of the Veteran population.