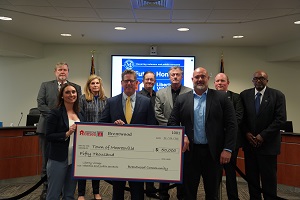 Honors Veterans and Public Servants
The Town of Mooresville announced today that American Homes 4 Rent (NYSE: AMH) ("American Homes 4 Rent" or the "Company"), a leading single-family property owner, leasing operator and build-to-rent developer with a presence in the Charlotte market, will donate $50,000 to the community to help fund Liberty Village, a planned neighborhood that will support veterans and public servants by creating affordable housing with reintegration services and amenities. In addition, American Homes 4 Rent's local vendor community is working to collectively match the Company's donation for a total contribution of $100,000.
Liberty Village will be a one-of-kind project in the Town of Mooresville that will honor local veterans, first responders and other essential community servicemembers. Liberty Village will be connected to Liberty Park and the War Memorial Center as well as downtown, with vibrant places to shop, eat, drink, connect and gather, like Welcome Home Vets and Richard's Coffee Shop.