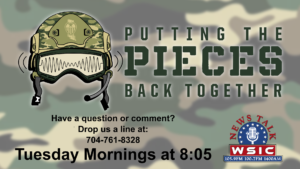 Putting the Pieces Back Together with Purple Heart Homes
Tuesdays, 8:00-9:00 AM
Join Purple Heart Homes each Thursday at 8 am on News/Talk WSIC. John Gallina and Brad Borders help veterans with the changes and challenges of life. Call in to the show at 704-873-1400.
Thank you to our show sponsors:
Dr. Grant Campbell
Linn-Honeycutt Funeral Home in China Grove
Bunch Johnson Funeral Home in Statesville
Purple Heart Homes
We provide housing solutions for service connected disabled and aging Veterans
We are Veterans… We are also the sons, daughters, brothers, sisters, spouses, and those who are proud to have a connection to our nation's military. Join the family, and help us provide much needed assistance to Veterans of all eras.
Purple Heart Homes is a 501(c)3 public charity that was founded in 2008 by John Gallina and the late Dale Beatty, two combat wounded Veterans. After being injured in Iraq in 2004, they returned to their community and received a warm welcome and grateful appreciation for their service. They began to question why all Veterans didn't get the same levels of support and assistance from society.
The answer isn't easy, but Purple Heart Homes fills the gaps in housing through the Veterans' Aging In Place and Veterans Home Ownership Programs. From building a ramp for a Veteran of World War II, to providing home ownership opportunities to younger Veterans, our programs are designed out of necessity and fit the specific needs of the Veteran population.
Listen to Recent Shows:
To download an mp3 file:
Left click once on the file you want to download to 'highlight' it in the list
Right click on the "CLICK HERE TO DOWNLOAD MP3" button that appears at top of player and select "Save Link As…" (or similar wording)
Select a location on your computer where you want to save the file
Click "Save"
Enjoy the program!
Firefox is the recommended web browser. Player may not work with Safari on Mac.