THE PATRIOT'S CORNER      Tuesday Evenings 7-8pm on WSIC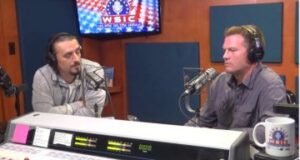 Join your hosts Micah Phelps and Ike Branham every Tuesday evening at 7pm on WSIC.  They will bring you close and personal to the politics and happenings behind the scenes in the region.
With lying politicians and a dishonest media, who out there will speak truth to power for We the People. Who will call out the corrupt, the incompetent, the liars and the thieves in our government? Who will speak truth and common sense in the era of an empire of liars?
The Patriot Corner will.
Join Micah Phelps and Ike Branham every Tuesday night from 7-8pm as they champion the message of faith and freedom over the airwaves.
Ike Branham is a Missionary and an associate pastor at Victory Baptist Church. A small business owner, born and raised in Iredell County. Ike brings the message of faith to The Patriot Corner. A strong voice for the Church and the Gospel. A true defender of our Christian Judeo Values. Faith, Family and Country is his creed.
Micah Phelps is a battle hardened political guru for Freedom. With a decade of professional political experience fighting in the trenches. He has stolen the secrets from the career politicians, the lobbyists, the non profit groups, the special interests, the bureaucrats and is giving them all to the people for free. A true powerhouse at politics and a powerful voice for Freedom and holding our government accountable.