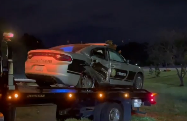 A North Carolina State Highway Patrol trooper was involved in a crash early this morning while trying to stop a speeding wrong-way driver, authorities said. During the chase, the driver headed the wrong way, up an exit ramp near Rock Quarry Road onto Interstate 40. Authorities said in order to stop the wrong-way driver, a trooper parked his car at the top of the ramp to stop him from driving into oncoming traffic on the interstate.
Joshua Ray Bibey, 26, from Raleigh was charged with driving while impaired. He was transported to a local hospital after the crash for injuries.
Bibey has an extensive criminal record dating back to 2011. Most of his charges are for possession of drugs, including cocaine. Last month he was charged with felony fleeing to elude arrest with a motor vehicle and assault with a deadly weapon. *PHOTO credit: WRAL-TV, Raleigh.​