Ron Campurciani, Mooresville's Police Chief, was recently elected as the Southeast Regional Chair on the Executive Committee of the International Association of Chiefs of Police's (IACP) Midsize Agencies Division.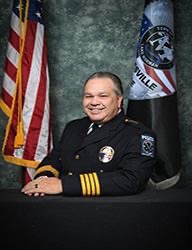 The IACP is a 501c(3) organization with more than 31,000 members in 165 countries. The aim of the organization is "advancing safer communities through thoughtful, progressive police leadership."
Campurciani has been a member of the IACP since he reached the rank of Chief at the West Springfield Police Department in Massachusetts. As Regional Chair, he'll be over 2,333 agencies, with officer totals in each rangingfrom 50 to 999, in 12 southern states.
In the course of his duties as Regional Chair, Campurciani will be participating in calls, conferences, and summits; initiating outreach to division members about upcomingprojects; and serving as a subject matter expert for IACP leadership and staff, who will be consulting him for advice, strategic insights, and technical expertise.
Chief Campurciani said that the IACP is a valuable resource, as it allows him to learn about new trends and best practices in policing and bring them back to Mooresville.
"I'm able to connect with other law enforcement agencies around the globe and see what we can apply here at the department to consistently do better for our community," he said. "Policing is dynamic and ever-changing, so we need resources like the IACP, which is the largest police association in the world, to keep on top of case files and court decisions that affect how we do our job."
Campurciani will serve in this role until 2023.