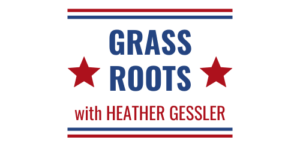 Grass Roots with Heather Gessler
Tuesday, 8:00 AM – 9:00 AM
Join Heather Gessler as she talks with community leaders, discusses upcoming local events, issues impacting our region, and local, regional, and national politics. Heather is joined every week by special guests such as Congressman Ted Bud, Congressman Patrick McHenry, Congressman Madison Cawthorne, NC Treasurer Dale Fowell, and Second Lady of North Carolina Yolanda Robinson.
Listen to Recent Shows:
To download an mp3 file:
Left click once on the file you want to download to 'highlight' it in the list
Right click on the "CLICK HERE TO DOWNLOAD MP3" button that appears at top of player and select "Save Link As…" (or similar wording)
Select a location on your computer where you want to save the file
Click "Save"
Enjoy the program!
Firefox is the recommended web browser. Player may not work with Safari on Mac.
Email: Heather@wsicweb.com